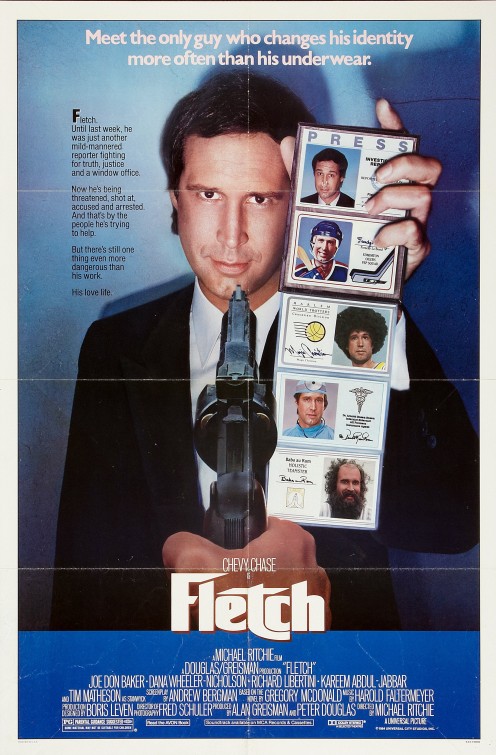 In this 1985 Comedy, director Michael Ritchie brings us Fletch, the story of Irwin Fletcher (Chevy Chase), a rogue newspaper reporter with a knack for danger and adventure with the ability to change identities like he changes clothes. While doing a story undercover on the illegal drug trafficking on the beaches of Los Angeles, he uncovers and infiltrates a dark world of murder, corruption and affair. Fletch uses his alternate identities to dig deeper into his drug story, and eventually a murder mystery involving multi-millionaire Alan Stanwyk. His research requires deception and often places him in hilarious compromising situations, which Fletch works his way out of with his keen sense of humor (granted not always so smoothly.)
Fletch works well as a mystery not to be taken too seriously. The plot moves along quickly, continually adding new twists to the mystery and Fletch's sense of humor works well to lighten the mood. As a viewer, you are interested in what will happen next with the plot twists, and can't help but laugh at Fletch's ridiculous antics. The film does withstand the test of time because it deals with relevant human issues such as greed, lust and corruption. The film has some typical 80's features, most notably the electronic music playing as Fletch cruises the streets of LA similar to the music used in Miami Vice. This adds to the thriller type theme, but at the same time is so overboard that it works more as a mockery of those types of films.
I would definitely recommend Fletch to any comedy fan. From John Cocktoastin to Mr. Poon to Dr. Rosen Rosen, Fletch offers many hilarious personas anyone can enjoy.
Waiter: Excuse me, Señor. You are a member of the club?
Fletch: No, I'm not, I'm with the Underhills.
Waiter: They are left, Señor.
Fletch: It's all right, they'll be back. He went out for his urinalysis.
Waiter: Would you like some drinks, Señor, while you wait? I will put it on the Underhills' bill.
Fletch: Yes, very good. I'll have a Bloody Mary and a steak sandwich and... a steak sandwich, please.