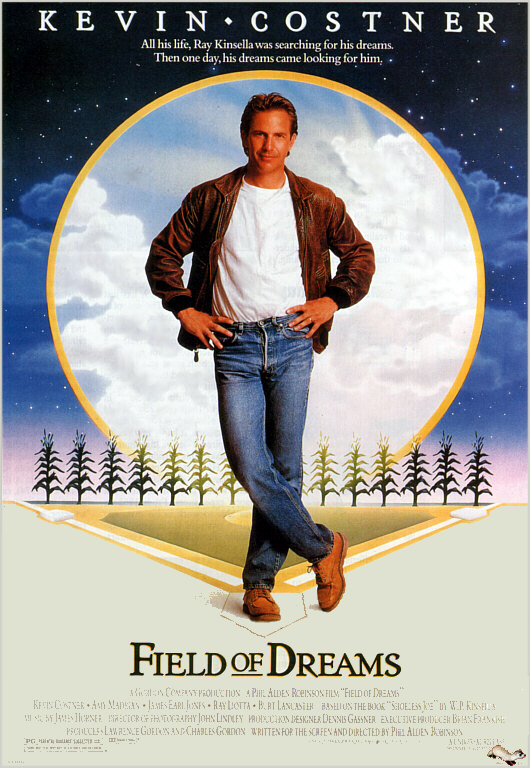 Field of Dreams" is one of the best baseball films of all time.

It involves an

Iowa

corn farmer who plows over his valuable cornfields to build a baseball field which brings back the Chicago Blacksox and "Shoeless" Joe Jack, the reason being because he hears a voice.

After the voice comes up multiple times again later, he is compelled to follow his instincts and listen to it, risking bankruptcy.

When everybody else thinks that Ray Kinsella (Kevin Costner) is straight-up out of his mind, he disregards their thoughts and does what he feels is right. The trick is that the voice does not tell him directly what to do; Ray must infer the voice's message and act on it appropriately. He ends up going out of his way to, driving across the nation to find Terrance Mann (James Earl Jones), an author who wrote about the Brooklyn Dodgers. He then realizes that Terrance is the only other person who is able to pick up on these hidden messages. He also comes to learn that the only people who can see the Blacksox's ancient players on his field are the people that believe it to be true.

"Field of Dreams" is a true thriller that involves fantasy fiction, yet still indulges into themes of mankind. It is an entertaining film to watch which includes great acting performances from Costner Jones, and Ray Liotta as "Shoeless Joe." In addition, for sports fans out there, it includes a good deal of baseball history and would fascinate even those who don't like sports. Overall, it is a genius film appropriate and enjoyable for people of all ages.