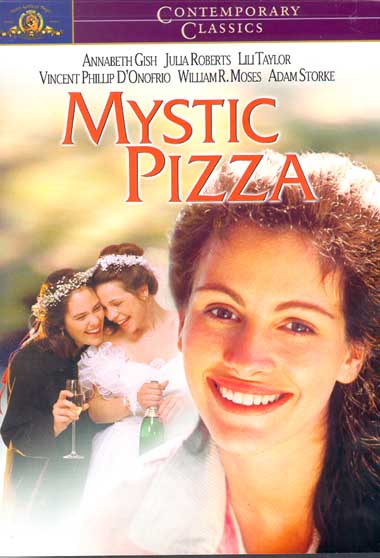 One of Julia Roberts's first films,
Mystic Pizza
is fun romantic comedy from 1988. Julia plays Daisy Arujo, a rebellious heartthrob who heats up the small town of Mystic, CT. She and her sister, Cat, work at the local pizza place, along with their good friend Jojo. Each of the girls has a significant other, though all three situations are a bit twisted.
Daisy falls for preppy out-of-towner, Charles, who was kicked out of Yale Law for cheating. They go on joy rides in his Porsche and share a romantic night at Charles's empty vacation house, but their different socioeconomic backgrounds cause tension. Cat takes a job as a babysitter, and ends up in a forbidden love with the father of the girl she watches. Jojo, whom we see faint at the altar in the first scene, has an on-and-off relationship with Bill, played by Vincent D'Onofrio.
Amidst all this romance, the girls are struggling with their uncertain futures. Cat has been accepted to Yale, but worries about how she will pay for it. Daisy fights with her mother about being less successful than Cat, and having a negative reputation. Leona, the owner of the pizza place and holder of the secret recipe for "Mystic Pizza," acts as a mother figure for all of them, encouraging them through the emotional times. When her business booms due to a superb review, she even gives Cat enough money to pay for Yale.
This film is a realistic take on the late teenage years. The acting is excellent, and the conclusion predictably happy. It is not a distinctly 80's teen movie, but it is just as enjoyable as the stereotypical high school flicks. Plus, you can't go wrong with Julia Roberts, even in her early acting years.