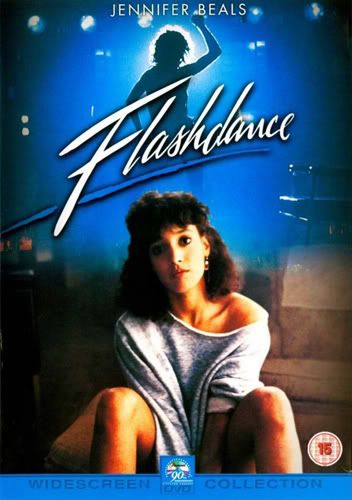 Flashdance, the ultimate 80's movie, inspired girls everywhere to wear legwarmers, be dancers, and cut their sweaters for the ideal off-the-shoulder sex kitten look.
Set in exotic Pittsburgh, the movie opens following Alex Owens (Jennifer Beals) as she transitions from her day job as a welder at a steel mill to her night job as a dancer at the ever-popular tavern/bar, "Mawby's." She aspires, however, to train at the Pittsburgh Conservatory of Dance and Repertory so that she can be a professional ballet dancer.
Alex's boss from the steel mill, Nick Hurley (Michael Nouri), goes to Mawby's one night where he watches Alex dance. He is inspired to pursue her despite their difference in age-he's pushing 40, she's 18- and in income; he owns the mill, she owns a bicycle. This is most likely because of their difference in attractiveness; he is a hairier version of Prince Humperdinck, and she weighs 80 pounds.
Most of the conflict in the film comes from Alex being an angry teen. Suspicious boss/boyfriend Nick is cheating on her, she throws a rock through his window. While being leered at by an uncouth customer of Mawby's, she pours his beer on his crotch. Most of the major plot points are fairly predictable- her ancient dance mentor dies, she gets attacked walking to her bike after work, etc etc. As she watches her friends fail in their pursuits of their dreams, she becomes increasingly intimidated to pursue her own. The majority of her troubles, however, are solved by her rich boyfriend. He gets her an audition from the conservatory, she rides in his porsche instead of her bicycle, he feeds her and buys her things, etc.
Punctuating the movie are the dance sequences from Mawby's, so when Alex's drama becomes too overbearing, a dance routine is in order. These frequently involve over-the-top costumes, dramatic 80's make-up, and titillating writhing and grinding set to the tune of a soon-to-be hit 80's anthem. The theme song of the movie, "Flashdance...What a Feeling" by Irene Cara, became a major hit, as well as "Maniac" by Michael Sembello.
All in all, Flashdance is an ideal movie to watch if you are drinking, sick, or otherwise incapacitated. It's fairly simple, there isn't a whole lot to figure out, and it provides an ideal pick-me-up as only the 'best' dance movies can.